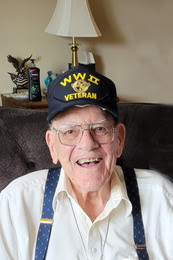 Wisconsin World War II veteran, Harry Dillon Baker will celebrate his 103rd birthday on October 9th. At the request of his family, the Wisconsin Veterans Museum staff is asking for your help in marking Harry's milestone by sending a birthday card made out to him which the staff will deliver to his home.
About Lieutenant Colonel Harry Dillon Baker
Madison-born Lieutenant Colonel Baker served for a combined 24 years active duty with the U.S. Army and in the U.S. Army Reserves. He joined the ROTC at Michigan State University and later attended officer candidate school at Fort Sill, Oklahoma.
During World War II, he was assigned to the 76th Infantry Division at Camp McCoy. He deployed to the European Theater 11 months later. Baker served as an artillery spotter/forward observer with K Company, 3rd Battalion, 304th Infantry Regiment, 76th Infantry Division, Army Reserve. He was part of "Patton's Army" as he describes it, seeing action at the end of the Ardennes-Alsace campaign, and the Rhineland and Central Europe campaigns. Read more about Baker on the museum blog.
In a 2021 interview Baker was asked what he wanted young people to know, he said, "When the time comes to support your country be the first to be there."
You can help make Harry's 103rd birthday on October 9th memorable. You can send birthday CARDS ONLY by September 18th. Other items will not be delivered.
Mail cards only to:
Wisconsin Veterans Museum
Attention: Lt. Col. Baker's Birthday
30 West Mifflin Street
Madison, WI 53703