Over 100 Airmen along with three KC-135 aircraft from the 128th Air Refueling Wing assigned to the 506th Expeditionary Air Refueling Squadron as part of the U.S. Indo-Pacific Command at Andersen Air Force Base, Guam returned home after a nearly three-month deployment to the pacific island.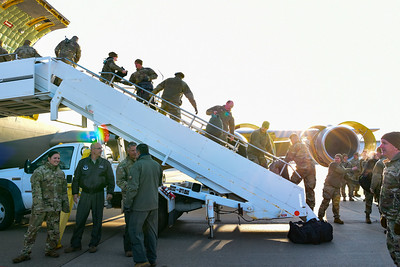 In the early morning hours of March 5, two KC-135 aircraft arrived home with almost 80 Airmen, while the remaining 40 Airmen arrived two days later on the third and final jet that had been delayed due to needed maintenance.
As Airmen disembarked the aircraft, family and friends waited patiently just outside the hangers. First to greet the Airmen were Maj. Gen. Paul Knapp, Wisconsin's adjutant general, and Brig. Gen. David May, Wisconsin deputy adjutant general for Air, along with wing leadership.
After a brief welcome home and congratulations the Airmen unloaded their gear, stacked it on a K loader, and headed over to the hangar to great their families and begin the in-processing function.