ABOVE PHOTO: Amanda Preston, center, nursing student at Chippewa Valley Technical College, logs into a game for the first time in the College's new lab that also will be used for cybersecurity education. Preston and her fellow nursing student friends, Lacey Casalegno, foreground, and Mattie Dickerson, background, are researching gaming and mental health. 
Lacey Casalegno, Amanda Preston and Mattie Dickerson felt a bit out of their element recently.
The Chippewa Valley Technical College nursing students sat in cushy chairs in the new computer lab and signed into a gaming platform under the watchful eye of Erin Hazen, a student involvement specialist at CVTC.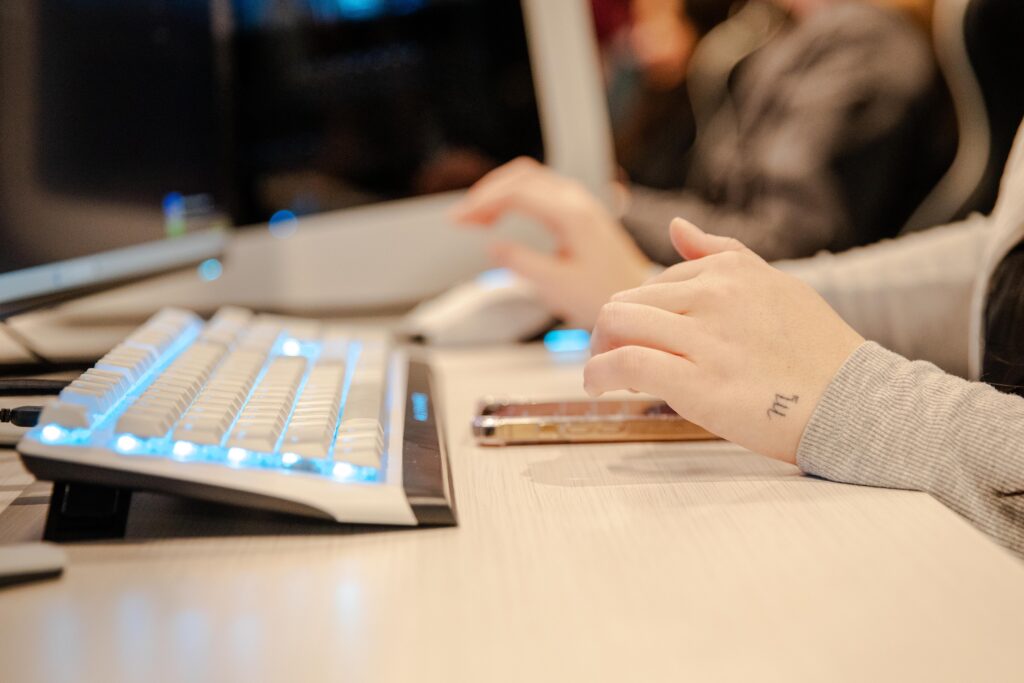 The three nursing students don't game, but this semester they're putting together wellness and mindfulness activities to present to students participating in esports at CVTC. Some of that includes being mindful of changes in mental health, Casalegno said.
"We plan to come back next month to give information to students during an eSports competition, but we needed to try some games out for ourselves first," she said.
Hazen said she encouraged the three nursing students to get familiar with gaming.
"A great thing about gaming is that it can be inclusive and fun," she said. "I thought it only made sense that students completing a project on gaming should experience a game or two."
As a casual gamer, Hazen has helped bring eSports to the College. Students are building an eSports club at CVTC, but for now, Hazen will continue entering individual students in eSports competitions.
As a child, Hazen and her brother spent hours together gaming. Now, as an adult, Hazen, her husband and her daughter "hop onto games together" to practice their skills.
"Gaming has always been a way to bond with people in my life, and I'm excited to help bring these opportunities to CVTC," she said.
The student involvement specialist said she has seen and experienced the spectrum of gaming affecting mental health. Sometimes gaming is used as a stress reliever, but other times it's stress-inducing, she said.
"I think anything that is performance or skill-related, which esports can be, has the potential to cause stress for people," she said. "I am thankful that collegiate esports has taken steps since the very beginning to tie mental wellbeing into their gaming culture."
After the nursing students gather and offer wellness and mindfulness activities to esports students at CVTC, they will report back to their nursing class that focuses on mental health.