PHOTO: William Stoehr visited Mt. Everest base camp in Nepal as part of his travels while leading the map division of National Geographic.
An alum who turned his interests and dreams into two unexpected careers — traveling the globe working for National Geographic then becoming a full-time artist — will return to University of Wisconsin-Stout to speak and open an exhibit of his work.
William "Bill" Stoehr, a 1970 graduate, will give a keynote address from 1:15 to 2:20 p.m. on Wednesday, Sept. 13, in the Great Hall of the Memorial Student Center. He also will attend the opening of his exhibit from 4 to 6 p.m. Thursday, Sept. 14, at Furlong Gallery in Micheels Hall. Both events are free and open to the public.
Stoehr is this year's featured Cabot Executive in Residence, which is sponsored by Stout University Foundation. His address, "Lessons from Alice in Wonderland — Risk, Reward and an Uncertain Future," considers the questions "who are you and where do you want to go?" He will emphasize the "pursuit of balance in life and the necessary compromises it entails," he said.
The exhibit will feature 14 of his 60-inch by 80-inch acrylic paintings, plus his digital art viewable on 11 screens. Exhibited internationally in universities, art centers, museums and galleries, Stoehr's current focus is the award-winning Art for Hope, a collection of portraits that showcase those affected by substance use disorder.
"For me the essence of art is the exploration of fundamental issues of our time. I now focus on opioid addiction with its victims, witnesses and survivors. My job as an artist is to get you to think and to ask questions," he said.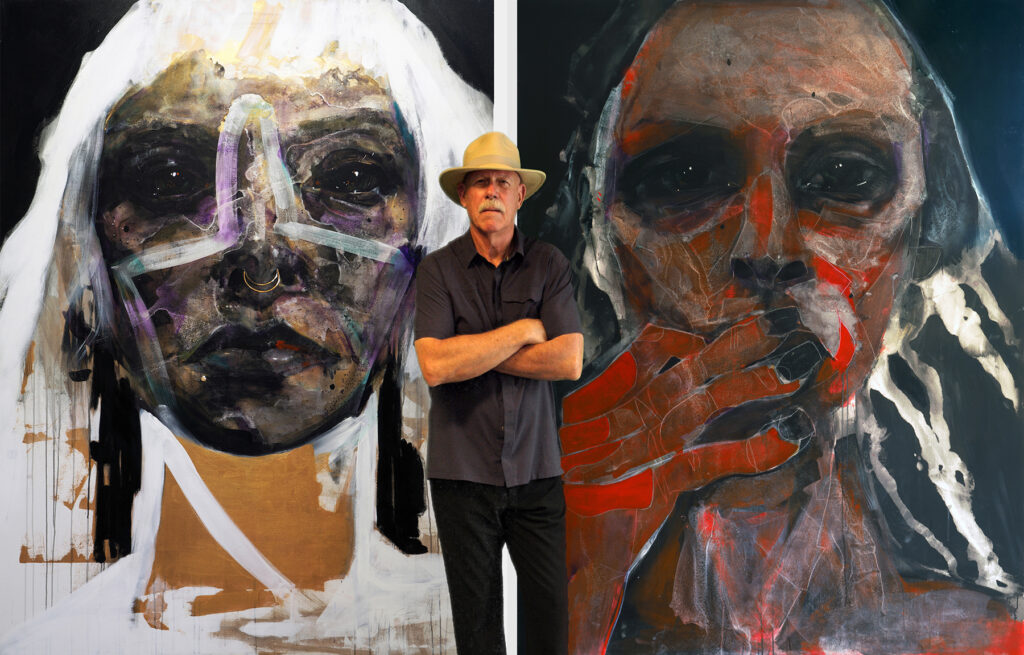 "We are attracted to faces – it is our nature. If I fill the canvas with a big face, then there is little room for external leading context. I think this, along with the large size and closely cropped face, creates an elevated sense of intimacy."
The paintings — he uses brushes, paper towels and a kitchen scrubber — began with a personal mission.
"My sister overdosed and died 10 years ago. She might still be alive if weren't for prescription opioids and the stigma that surrounds addiction. The first step toward alleviating stigma is to normalize the discussion, get people to talk about it and then help people understand that substance use disorders are a treatable medical condition and not a moral failing. And understanding where to get help. Stigma became my focus. My exhibits are a forum for education and communication. A place where you can come for the art but stay for the message," Stoehr said.
The digital magazine Artmoire says Stoehr's paintings "are beautifully disturbing. He takes our natural and predisposed attraction to faces and uses this to arouse profound and penetrating emotions within us."