ABOVE PHOTO: Referendum funds transform car dealership into College education center
 Chippewa Valley Technical College at River Falls faculty, students and staff anxiously await the completion of renovations to the College's acquired building at the corner of Highway 35 and East Cascade Avenue.
The building – CVTC at River Falls South Education Center — is about 23,800 square feet, and its remodel began in early April, said Paul Kouba, CVTC facilities project coordinator.
"We put a new exterior on part of the building," he said. "We opened up the interior and started over from scratch."
The South Education Center will provide expand capacity in welding for high school academy students and specialized workforce training opportunities. Our Residential Construction Program will also be housed in the building. Criminal Justice and EMT students will utilize a newly-created emergency response scenario space. Kouba said extra classroom areas also are part of the plan.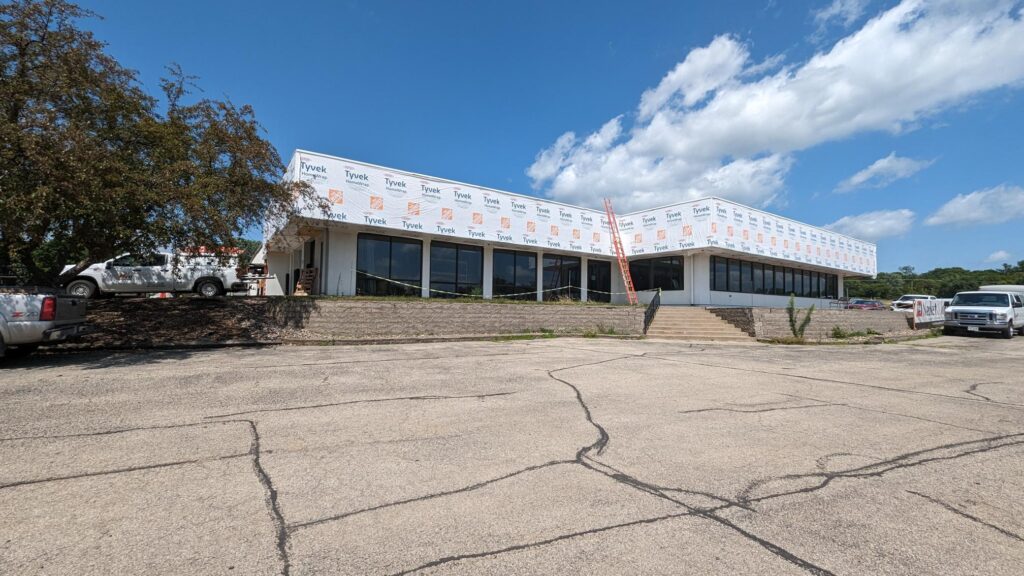 Jen Sell, CVTC at River Falls campus manager, said the space is needed to educate the future workforce.
"CVTC serves a growing and diverse student population, and having extra space in River Falls allows us to improve program offerings," she said. "Our academic programs will have more space to provide quality, hands-on experiences."
Kouba said renovations to the building are set to be completed near the end of August. And although construction began in April, the plan was in the works for years prior.
"The timeline for the renovation has been years in the making and was invigorated by the public support of CVTC's district-wide referendum in 2020," Sell said. "Since that time, the College has connected with the community through visioning sessions and conversations to help determine the best use for this additional space.
"We are so thankful for the community's support in recognizing the vital role that technical education plays in western Wisconsin. This expansion will positively impact the lives of our students as well as the local workforce."