ABOVE PHOTO: An F-35 fighter jet from the Madison, Wis.-based 115th Fighter Wing takes part in a refueling operation. Wisconsin Department of Military Affairs photo by Kelly Bradley
Approximately 30 educators from central and northern Wisconsin recently were given a high-level perspective to learn about career opportunities in the Wisconsin Air National Guard.
Teachers from Amherst, Arcadia, Ashland, Black River Falls, Granton, Kickapoo, La Crosse, Lincoln, Mauston, Menasha, Middleton-Cross Plains, New Lisbon, Reedsburg, New London, Rhinelander, Sturgeon Bay, Thorp, Tomah, Wisconsin Rapids, Madison College and the University of Wisconsin-La Crosse took part in a civic leader flight coordinated and hosted by Volk Field Air National Guard Base.
The civic leader flight involved two KC-135 Stratotankers from the 128th Air Refueling Wing in Milwaukee. During the flight, educators observed two F-35 fighter jets from the 115th Fighter Wing in Madison, Wisconsin and three F-16 fighter jets from the 148th Fighter Wing in Duluth, Minnesota participate in aerial refueling. They also received a briefing from Col. Matthew Eakins, Volk Field commander prior to takeoff.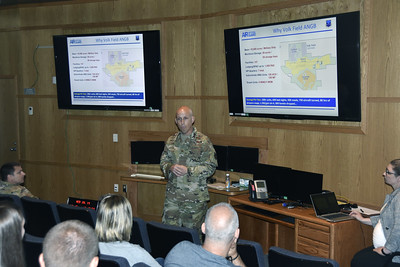 Volk Field is an integral training platform not just for the Wisconsin Air National Guard, but other military components as well. One example of this is Northern Lightning, a large-scale annual counterland exercise involving hundreds of personnel from Air National Guard, Air Force, Navy and Marine Corps units.
Ryan Schaller, a school counselor at La Crosse Central High School, was impressed with what he saw that day.
"The utilization of advanced technology, along with the expertise displayed by those operating the technology and doing the work, was truly a sight to behold," Schaller said. "Walking away from this, I realize how and why the Air National Guard has so many opportunities."
Ashley Ruzic, a middle school instructor from Marshfield who teaches math, science and personal development, also saw the value in experiencing first-hand the opportunities available in the Wisconsin Air National Guard.
"If I could give my seat on that plane to just one person, it would be that shy middle school kid," Ruzic said.
After the refueling flight, educators were provided lunch at Volk Field and heard from Brig. Gen. David May, Wisconsin's deputy adjutant general for Air, Command Chief Master Sgt. Chad Workman, the Wisconsin Air National Guard's senior enlisted leader, and Chief Master Sgt. Travis Skowronski, Volk Field's senior enlisted leader.
"It's a nice change of pace to show the community what we do," said Tech. Sgt. Collin Schmitz, an assistant crew chief with the 128th Air Refueling Wing. "My wife is an art teacher, and it's nice to give back to educators."