Noble Melvin is ready to start your engines.
The 17-year-old Neillsville High School senior will graduate with a high school diploma and a technical diploma in motorcycle, marine and outdoor power products from Chippewa Valley Technical College within months of each other, thanks to CVTC's high school academy offerings.
The College's high school academies allow students in participating school districts to attend CVTC while also earning high school credit at no cost to the student or their family.
At age 13, Melvin's mother told him and his brother that she would pay a portion of the cost of a motorbike and that they would have to come up with the rest.
That agreement was the incentive for Melvin to get to work. He mowed lawns and did fix-it jobs for neighbors to raise the money he needed to purchase his first bike. Since then, Melvin has been riding and fixing dirt bikes with his brother and cousin.
That sparked his interest in small engines.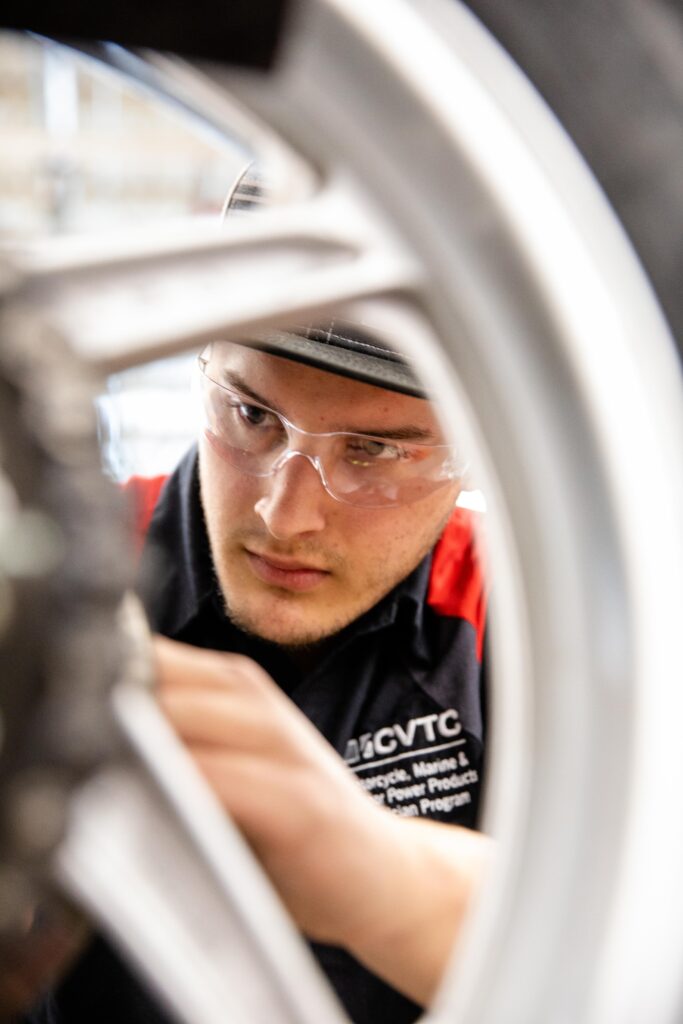 "I took as many auto shop classes in high school as I could," Melvin said. "I took welding and everything I could to be in the shop, but I never got to work on motorcycles."
When he found out he could attend CVTC four days a week to learn more small engine skills as part of the dual enrollment high school academy, he jumped at it.
"Now I spend my days in this amazing shop," he said. "Everyone is so nice here, and I work on stuff that I love to work on. Working on motorcycles is what I love."
Although Melvin already has a side job working on boat motors with a fellow student, he's not sure he wants to do it as a career.
"I could do it as a profession, but I don't really want to because I enjoy it so much," he said. "But I really want to do the CDL program."
After Melvin receives his technical diploma, he is set to jump into CVTC's truck driving program in September.
"Going to CVTC has definitely given me a good base," he said. "People in the class already have jobs that pertain to this, and you can see everyone has grown so much."