ABOVE PHOTO:Dr. Nick Miskulin, dentist, and Emily Severson, dental assistant and hygienist, see patients at the Chippewa Valley Technical College Dental Clinic and recently traveled to the Dominican Republic to volunteer their time and skills to see patients there.
When Emily Severson and Nick Miskulin talk about donating their skill, money and time to help underprivileged people receive much-needed dental care, they act as if it's common – as if everyone takes a week off from work to fly to the Dominican Republic on their own dime to work for free.
"I want to help people," Miskulin, an Eau Claire dentist, said as a matter of fact. "With these types of trips, you get so much more than what you give. It's a life-giving experience, and it really puts things into perspective."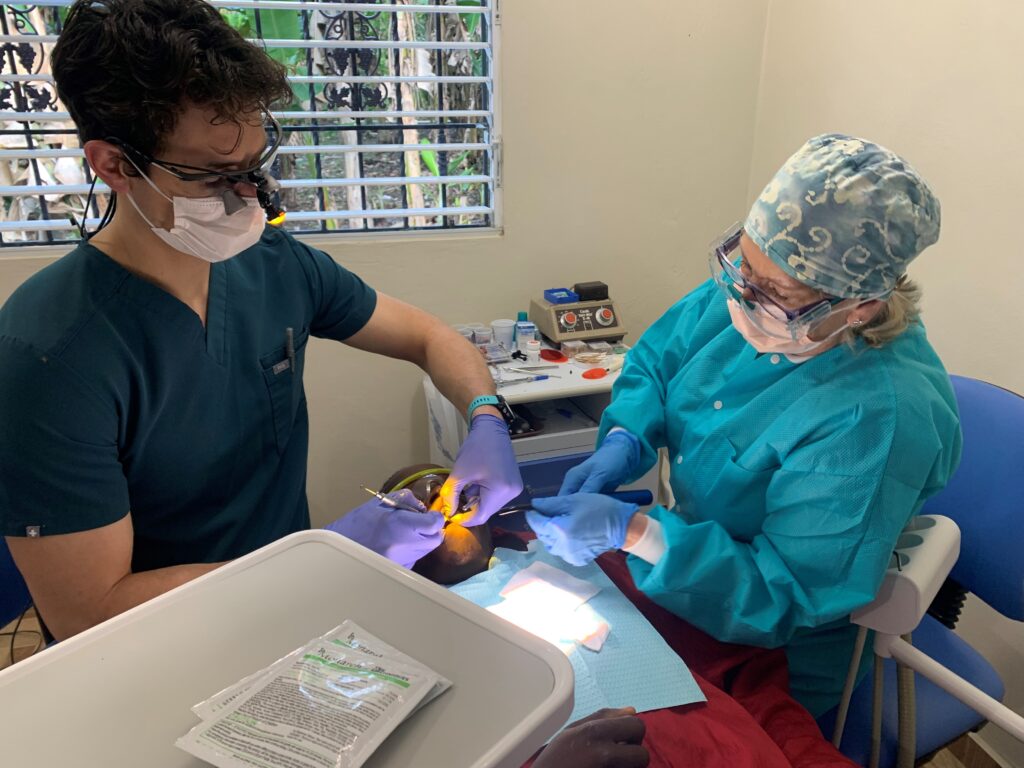 Miskulin and Severson traveled to the Dominican's Santa Cruz del Seibo region in January. A five-hour flight and a similarly timed coach bus and then flatbed truck ride up mountainous terrain brought the dentist and Severson, a dental assistant, to the remote dental clinic building. During their one-week mission, they served 229 patients needing various dental repairs and emergencies.
Severson, a part-time dental assistant at Chippewa Valley Technical College, caught the mission bug nearly 10 years ago when she went to the same clinic to help out for the first time. She "blames" Dr. Gary Hendricks, a preceptor dentist from Cumberland who is retired.
Hendricks worked at CVTC a couple times a week and would tempt the other dental employees with his mission trip photos from the Dominican.
"He would walk by and say, 'Emily, come here and look at these,' and they were just beautiful," Severson said. "I've always wanted to do a mission trip. He was instrumental. He has organized the trip for 20 years. It's a well-oiled machine."
Miskulin, who moonlights at CVTC as a dentist and instructor one day a week, performed his dentistry fellowship at the College from 2019 through 2020. Now, he works with his brother at their business, Oakwood Hills Family Dental, three days a week, and at CVTC as an adjunct professor and dentist in the clinic.
"It's a good way to break up my week and a good way to give back to the community," he said of spending a day a week at CVTC.
But doing mission work to help others puts life into perspective, the pair said.
Fellow CVTC Dental Assistant and Hygienist Instructor, Pam Entorf, said the mission trip is on her bucket list. And she's excited Severson and Miskulin have been able to help so many people.
"Emily (Severson) said it is one of the most amazing experiences," said Entorf, who was named the 2022 John Frank Outstanding Educator Award recipient. "Both Emily (Severson) and Nick (Miskulin) are great people and very knowledgeable."
Miskulin expects he and Severson will travel to the Dominican Republic again to continue their mission work.
"What really matters here is we're just people helping people," Miskulin said. "I want to immerse myself in those situations so I can learn and grow into the best dentist that I could possibly become and do what I can to serve people."