Hope Gospel is hopping into action and offering an Easter meal for those that are in need of encouragement and food.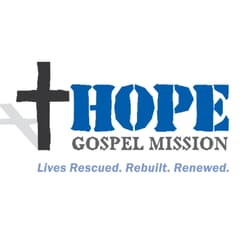 Because of the coronavirus and social distancing constraints, we are only able to offer the meal as a curb side pick-up.
The Easter community meal will be held on Saturday, April 3rd from 11:30 p.m. to 1:30 p.m. This special free community event will be held at the Hope Renewal Center for Men located at 2650 Mercantile Drive (Across from Festival Foods on Eau Claire's west side).

The take-out meal is free to everyone and will feature ham, scalloped potatoes, green beans,
dinner rolls, and dessert. Families, church groups, couples, and individuals are welcome to drive
or walk up to get a meal.