The day after delivering his first State-of-the-State Address, Wisconsin Governor Tony Evers visited Chippewa Valley Technical College in Eau Claire to follow up on his message and the role education plays in his agenda.

"Last night I talked a lot about education in the State-of-the-State address," Evers said during his CVTC visit on Wednesday, Jan. 23. "It's good to be here at CVTC and to see the programs that are great for your communities and the country, and ensure that people who are struggling eventually have a
chance to improve themselves."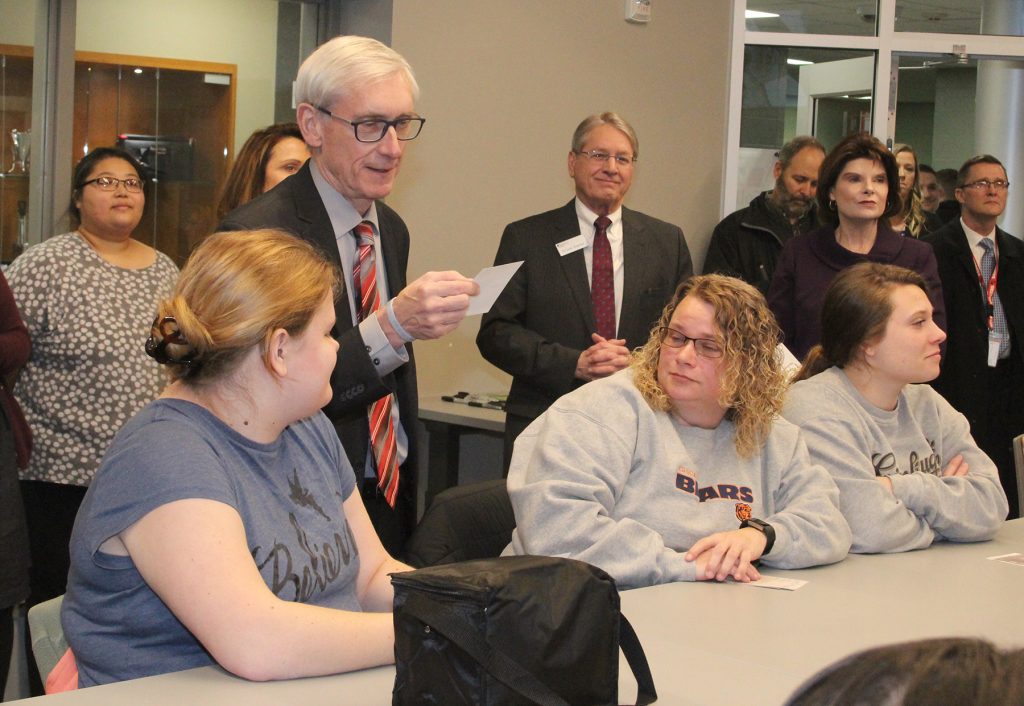 In his Tuesday night address to a joint session of the Wisconsin legislature, Evers spoke of "connecting the dots" by seeing how different problems and situations interrelate with one another. "The budget that I'll be introducing in the coming weeks is about connecting those dots," Evers said. "And to no
one's surprise, it begins—as it always has for me—with education."

CVTC President Bruce Barker said he spoke with Evers during Wednesday's visit about how CVTC can help connect the dots that lead to student success.
"Our partnerships between CVTC and our K-12 districts is something we talked about a lot," Barker said.
"We talked about the success of our dual credit program and how that has saved students in 43 area high schools over $1.4 million in tuition costs."
Barker noted that the Wisconsin Technical College System has made a budget request for increased funding throughout the state. "We told Governor Evers that if we were to get any additional funding, it would be used for high school dual credit academies and apprenticeships," Barker said.

At his CVTC visit, Evers called on the legislature "to take up my budget and not craft their own. I want them to start with my budget, but I know I'm not going to get everything I want and they're not going to get everything they want."