…THAN FREE DONUT DAY!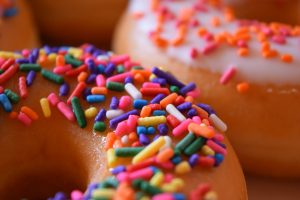 Everyone's favorite food group: DONUTS! Today is National Donut Day, and plenty of places are offering free donuts to celebrate.  Dunkin' Donuts is giving away a free donut with any beverage purchase.  Burger King is offering a "flame-grilled donut" in locations in New York, Los Angeles, Miami, Boston, and Salt Lake City.  Papa John's is handing out a free order of hot Donut Holes with any online purchase.  Lastly, Krispy Kreme is offering one free donut, all day with no purchase necessary.
Which reminds me of this SWEET joke:
Why did the donut go to the dentist? …To get a filling.